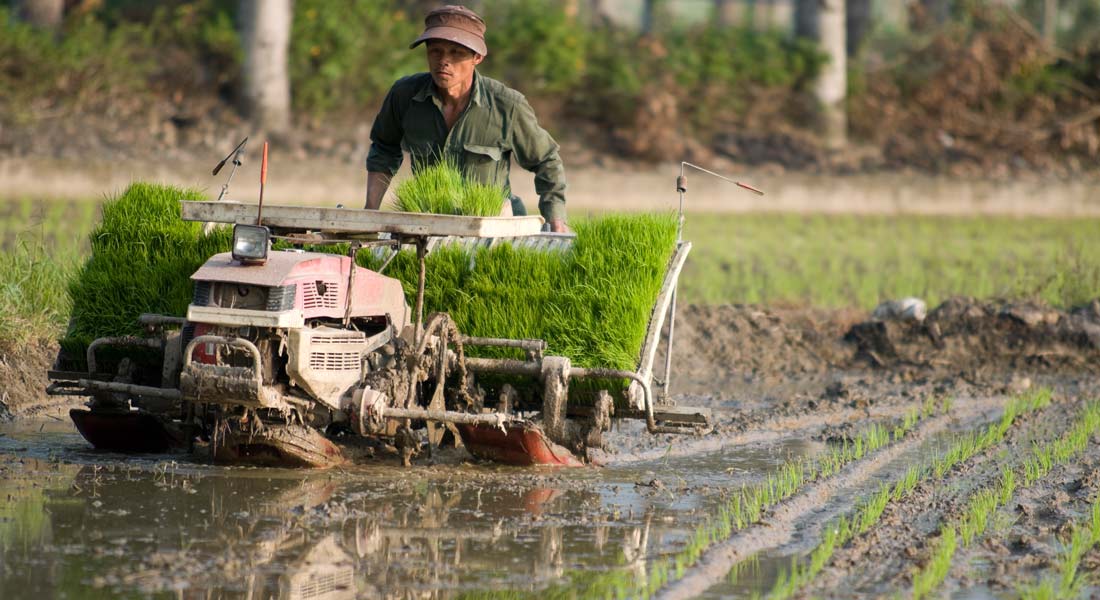 02 Jun

Turning Challenges into Triumphs
Turning Challenges into Triumphs: Achieving Results Through Resilience
G-Planter is driven by a strong sense of responsibility for continuous improvement and delivering extra value to customers. Our aims to provide comprehensive solutions that address customer problems and needs by utilizing our capabilities and understanding the customer perspective to deliver maximum benefits.
We emphasize how we can help customers and users solve challenges and difficulties in agriculture by providing dependable and innovative solutions with low environmental impact and professional services with the highest business conduct.
Empowering Workers by Overcoming Knowledge Limitations
Today's world, sustainable agriculture is more important than ever before. The success of sustainable agricultural practices heavily relies on the knowledge of workers. However, many agencies face challenges in providing effective and repetitive training to estate workers, as the culture of estate workers is transient. To address this gap, we offer our elite service initiative that provides free training to improve the knowledge and skills of users in using crop protection products effectively. This service not only helps upskill and reskill workers, but it also reduces knowledge limitations and empowers workers to adopt sustainable agricultural practices. With our initiative, we aim to provide opportunities for estate workers to move away from unskilled labor and towards sustainable practices that benefit both the environment and the economy. This training will save the company time and money, enhance efficiency, and improve the bottom line.
Revolutionizing Productivity and address Labor Shortages
The labor shortage in agriculture is a global concern, attributed to several factors such as the aging of the agricultural workforce, lack of interest by young generation and the difficulty of the work itself. To address this problem, we implementing innovative method. Such as –
Weedaway – suppresses weed growth and reduces the need for frequent weeding. It's providing a cost-efficient and labor-saving alternative for weed control. This results in a decrease in chemical usage and an increase in labor productivity by 40-60% during the first two years of planting.
Hyplug – improved transplanting efficiency. Which speeds up the planting process compared to traditional polybags, saving time and reducing manual labor. Its design improves root development and seedling growth, which can reduce the need for manual labor to address plant health.
Garlon Mix – an effective herbicide that controls broadleaf weeds and conserves nephrolepis due to its long residual control. It's proven to suppress weed invasion in the field, resulting in reduced chemical usage and increased labor productivity.
Bravo – a tractor-mounted sprayer that has better adaptability to estate needs with flexible spraying angles for bagworm control in oil palm plantations. It can perform according to plant height and planting distance without significant adjustments. Helps address labor shortage, as the centralized control system requires only one person to operate. Additionally, Bravo's productivity can reach up to 20 hectares per day.
Partnership to drive ESG Compliance
ESG compliance is becoming increasingly crucial as it ensures companies operate in a socially responsible and sustainable manner that considers the impact of their operations on the environment, employees, and society as a whole. G-Planter is committed to ESG and helps its customers achieve compliance with ESG requirements. Which include regulation and related to environmental impacts.
G-Planter's "Environs Savvy" initiative helps customers achieve compliance with RSPO and MSPO regulations in an innovative and environmentally friendly way through the UPPCRP (Use Plastic Pesticide Container Recycle Program) which involves waste recycling. We have collected 97% the used of plastic pesticide container of the total national from 9 agencies. In addition, to minimize the adverse effects of pesticides on the environment, we prioritize offering and supplying class IV pesticides, which are the least toxic to reduce the negative impact of pesticide on the environment.